Start main content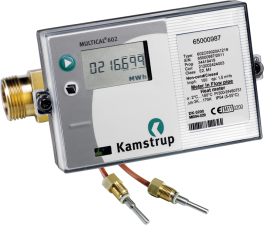 Energy Meter and Water Meter are being used for billing purpose in Hotels, Casino and Shopping Mall etc .
MULTICAL 602 with ULTRAFLOW 14 / 54
MULTICAL 602, the featuring product for cooling and heating metering, is used together with flow sensor ULTRAFLOW 14 or ULTRAFLOW 54. As well as two temperature sensors for calculation of energy and measurement of flow, power and temperature, the energy is calculated with the best measuring accuracy. The energy calculations and flow, power and temperature measurement are data logged and can be read directly from the display.
The ULTRAFLOW ultrasonic flow sensors are resistant to humidity and condensation as the signal converter is placed at the bottom of the calculator. ULTRAFLOW 14 is a compact cooling sensor. The range comprises flow sensors between qp 1.5 and qp 1,000 m³/h. The threaded sensors from qp 1.5 up to qp 10.0 m³/h whereas flange sensors in sizes from DN25 to DN100. For DN150 to 250 ULTRAFLOW 54 can be used.
Multical 602 also offers a complete range of communication modules. The meter can be fitted with LON, SIOX, M-Bus, a data module and the new solutions Metasys N2 and Ethernet/IP for wired communication. This allows remote reading of data through a wired/wireless network.
Kamstrup is a Denmark-based world leading producer of energy meters and system solutions for consumption measurements. Their core businesses include measurement of heat, cooling, water, electricity, and gas. The collected data can be used for analytics, allow users to optimize the system and equipment.
Website
https://www.kamstrup.com/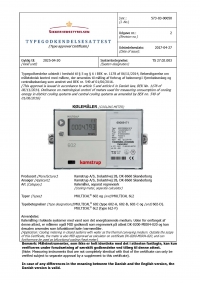 TYPEGODKENDELSESATTEST
(Type Approval Certificate)