Start main content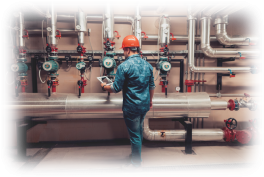 Our Maintenance team can provide inspection and maintenance service for existing hot water system.
Monthly, Quarterly, Bi-annually, Annually
24 hours emergency service (Macau)
To answer calls for service from Macau Local Customer in case of breakdown of equipment as promptly as reasonably practicable, 7 days 24 hours except for typhoon signal No. 8 or above.
| | |
| --- | --- |
| Office Hour Contact: | 853 2830 0112 |
| 24 hours Emergency Contact: | 853 6229 1962 |
✓ Functional test
✓ Combustion adjustment
✓ Inspect blower motor
✓ Fuel pipe leakage check
✓ Inspect and lubricate the modulation motor arms
✓ Inspect ignition system and safety control, clean and adjust as needed
✓ Check burner control logic
✓ Inspect control box, electrical wiring and connections
✓ Safety device function test
✓ Fire tube and chamber cleaning
✓ Water tube cleaning
✓ Boiler water quality analysis
✓ 3rd party survey test with boiler certificate
✓ Renew certificate of Safety Valve
✓ Assist Government for boiler testing
✓ Functional test
✓ Refrigerant leaks check
✓ Refrigerant charge
✓ Compressor pressure check
✓ Insulation megger test
✓ Evaporator cleaning
✓ Inspect fan motor and fan blades, lubricate as needed
✓ Inspect control box, electrical wiring and connections
✓ Inspect evaporator coil, condensate drain lines, clean as needed
✓ Functional test
✓ Inspect heat exchanger leaks
✓ Inspect and record heat exchanger temperature and pressure on both sides
✓ Heat exchanger efficiency analysis
✓ Heat exchanger plates cleaning, gasket replace as needed
✓ Inspect pipework leaks
✓ Check insulation and cladding, repair as needed
✓ Inspect temperature and pressure gauge
✓ Inspect pump start and stop sequence
✓ Fault signal test
✓ Insulation megger test
✓ Inspect control box, electrical wiring and connections
✓ Functional test
✓ Inspect temperature control logic
✓ Check emergency stop function
✓ Check safety device lockout
✓ Check steps control sequence
✓ Inspect control box, electrical wiring and connections
✓ Insulation megger test
✓ Tank and heater surface cleaning
✓ Inspect pump start and stop sequence
✓ Check interlock function
✓ Check changeover function
✓ Check for any abnormal noises
✓ Inspect all pipework and flexible connection for leakage
✓ Test overload protection
✓ Insulation megger test
✓ Inspect control box, electrical wiring and connections
✓ Check softener tank and brine tank leaks
✓ Check the physical condition of water supply & drain pipeline
✓ Check level of brine tank
✓ Test and record the hardness of inlet and outlet water
✓ Check sequence of softener regeneration
✓ Inspect brine tank brine level
✓ Inspect brine injection set
✓ Check chemical tank for leaks
✓ Check chemical feed pump
✓ Water analysis, adjust pump inject interval as needed
✓ Inspect feed pipe if blocked
✓ Inspect chemical tank level
✓ Inspect chemical concentration, adjust as needed